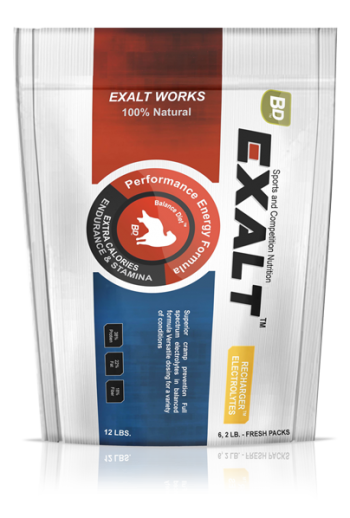 Recharger​ Electrolytes
Cramping is the body's final warning signal that elyctrolytes are critically low. However, performance is deteriorating and slowing down long before your dog feel the slightest twinge of a cramp. To keep your body's muscular, digestive, nervous, and cardiac systems "firing on all cylinders�? you need a consistent supply of all electrolytic minerals, not just sodium and potassium. Plus, in many instances, you require greater volumes of electrolytes than any sports drink or gel can provide. That is why ReCharger™ fulfills such a crucial component of fueling by supplying your sports dog's body with a perfectly balanced, full-spectrum, rapidly assimilated electrolyte source, allowing you to meet your dogs widely variable electrolyte needs with tremendous precision, hour after hour, no matter what the conditions throws at you.
Additional Benefits:
1 Serving or more of ReCharger™ before bed may help prevent "night cramps�? and night time muscle twitching and preparation for activity.
"This food is only for Dog."
Sizes/Pricing
Ingredients
Feeding/Storage
Gauranteed Analysis
AAFCO Statement
Additional information
| | | | | |
| --- | --- | --- | --- | --- |
| Quantity | Price | | Price Per Dry oz. | Shipping |
| 1 lb. | $29.97 | | $1.88 | Discounted |
| 4 lbs. | $109.97 | | $1.72 | Discounted |
| 8 lbs. | $199.97 | | $1.57 | Discounted |
| 16 lbs. | $369.97 | | $1.45 | Discounted |
| 32 lbs. | $589.97 | | $1.15 | Discounted |
| 64 lbs. | $897.97 | | $.89 | Discounted |
| | |
| --- | --- |
| Sodium (as Sodium Chloride) | 40 mg. |
| Chloride(as Sodium Chloride) | 60 mg. |
| Calcium (Chelate) | 50 mg. |
| Magnesium (Chelate) | 25 mg. |
| Potassium (Chelate) | 25 mg. |
| Vitamin B-6 (Pyrodoxine HCL) | 6.6 mg. |
| Manganese (Chelate) | 1.6 mg. |
| L-Tyrosine | 50 mg. |
| Sodium (as Sodium Chloride) | 40 mg. |
| Chloride(as Sodium Chloride) | 60 mg. |
| Calcium (Chelate) | 50 mg |
| Magnesium (Chelate) | 25 mg |
| Potassium (Chelate) | 25 mg |
| Vitamin B-6 (Pyrodoxine HCL) | 6.7 mg |
| Manganese (Chelate) | 1.6 mg |
| L-Tyrosine | 17 mg |
| Glycine | 50 mg |
Use as needed but primarily when:
1.     Exercise lasts for more than 3 hours, regardless of temperature or humidity.
2.     Exercise lasts less than 3 hours and:
a.     Temperature is above 80 degrees and/or 70% humidity or
b.     Temperature and humidity is 10 degrees or more above what you are accustomed to
1-3 tbsp's. per 10 lbs body wieght 30-60 minutes prior to exercise
1-6 tbsp's. each hour during exercise
1-3tbsp's. after activity
BD-Tip:
 limit to 1-3 servings per hour. If conditions warrant more, additional servings should be used.
NOTES
Body weight, level of fitness, weather conditions, acclimatization level, and biological predisposition all greatly affect electrolyte depletion so you must do your own trials with dosing, under a variety of conditions, to determine individual requirements.
Storage: Store in refrigeration for freshness and effectiveness
Sorry! No Data Available Yet.
Sorry! No Data Available Yet.
Additional information
| | |
| --- | --- |
| Quantity | Choose an option.., 1 lb., 4 lbs., 8 lbs., 16 lbs., 32 lbs., 64 lbs |