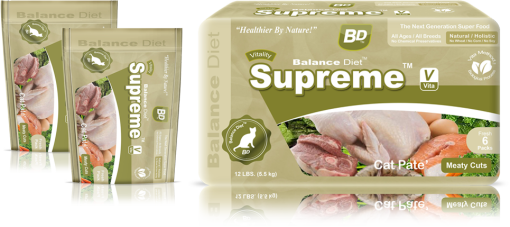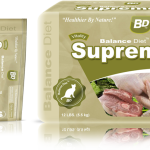 Meaty Grind Pate'™ Cat Food Chicken Flavor
$29.97 – $159.97
BD™ Supreme V™ Cat Foods have a precision balance of nutrients you're Cat requires for a longer, healthier life. Supreme V™ combines over 20 whole healthy fresh human grade and or organic ingredients.
Sizes/Pricing
Ingredients
Feeding/Storage
Gauranteed Analysis
AAFCO Statement
Additional information
Reviews (0)
BD™ Supreme V™ Cat foods diminish tartar formation by up to 98%.

Featuring the VitaMethod™  Proprietary biological transformation/purification/super nutrification process
Ingredients & Analysis
Chicken, beef, grade AA eggs, chicken liver, beef liver, bone marrow, ground bone, alfalfa, salmon, carrot apple, orange grapefruit garlic, avocado, tomato, spirulina spinach, broccoli, turnip greens, blueberry, shiitake mushroom, bean sprouts, berry grass, cider vinegar. (Preserved by a natural PH. Balance)
Nutrient Profile
Iodized Salt, L-Lysine, Potassium Chloride, Choline Chloride, vitamins (L-Ascorbyl-2-Polyphosphate (source of vitamin C), Vitamin E Supplement, Niacin, Thiamine Mononitrate, Vitamin A Supplement, Calcium Pantothenate, Biotin, Vitamin B12 Supplement, Pyridoxine Hydrochloride, Riboflavin, Folic Acid, Vitamin D3 Supplement), Vitamin E Supplement, Dicalcium Phosphate, Calcium Carbonate, minerals (Ferrous Sulfate, Zinc Oxide, Copper Sulfate, Manganous Oxide, Calcium Iodate, Sodium Selenite, Beta-Carotene, Rosemary Extract. (Exceeds AAFCO standards)
Metabolic Energy¹ (Calories)
Dry Weight      3929 kcal/kg (372 kcal/per cup ² )
¹Measurement of Usable Energy in a food, which differs substantially from gross caloric content.
²Eight fluid oz. equals 4.5 5.5 oz. by weight.
Average Nutritional Properties
  Nutrient
 Nutrient Guarantee %
As Fed1 %
Dry Matter2 %
As Fed, Caloric Basis3
g/100 kcal
Protein
36.5 min
36..5
44.0
28.5
Fat
18.5 min
18.5
25.0
8.5
Carbohydrate (NFE)
 
50.5
55.5
20.0
Crude Fiber
3.5 max
1.7
1.8
0.5
 
 
 
 
mg/100 kcal3
Calcium
1.50 min
1.0
1.0
320
Phosphorus
1.0 min
0.64
0.69
255
Sodium
 
0.26
0.26
69
Potassium
 
0.65
0.73
200
Magnesium
 
0.099
0.105
34
Taurine
0.15 min
0.17
0.22
44

BD-Tip: Urine pH range for a healthy normal kitten is: 6.2-6.4
¹Differs from label guarantees which are either maximums or minimums.
²The nutrient in the product after moisture is removed. It is used to make direct comparisons of nutrient profiles of products with differing moisture contents.
³Nutrient intake for every 100 kilocalories consumed.
Storage: Taking good care of your very special food
You may find that you do not need to refrigerate/freeze BD™ Kitten food, though for the very best results including maintaining optimum freshness and mold prevention we recommend cold storage. We recommend storing back stock cool-cold even if you do not necessarily need to cold store the individual pouch you are currently using. BD™ Kitten food should travel well with just what you need (what you can use in 2 weeks or longer) without the necessity for cold storage. Our proprietary VitaMethod process is an excellent stabilizing force, however avoid storing in humidity, as BD™ Kitten food is real whole natural food.
Daily Feeding Guidelines & Storage
Kittens: begin with these guidelines. You may adjust feeding portions for desired results to maintain proper body weight. If you are uncertain, consult your Balance Diet vet. tech., or ask your veterinarian. BD-Tip: feed 2-3 meals daily, or free feed

BD-Tip:  Keep fresh water available!

Feeding Chart
 

| | |
| --- | --- |
| Weight of Kitten | Amount per Day |
| 1 lb (.45 kg) | 1/8 cup + |
| 5 lb (2,3 kg) | 1/3 cup (35 g) – 3/8 cup (40 g) |
| 10 lb (4,5 kg) | ½ cup (50 g) – ¾ cup (75 g) |
| 15 lb (6,8 kg) | ¾ cup (75 g) – 1 cup (100 g) |

 
 
BD Tip: Allow kittens to feed until satiated- Pregnant mothers may consume BD™ Kitten food
Sorry! No Data Available Yet.
Sorry! No Data Available Yet.
Additional information
| | |
| --- | --- |
| Quantity | 5 lbs. 1 – Pack, 10 lbs. 2 – Packs, 15 lbs. 3 – Packs, 30 lbs. 6 – Packs, 60 lbs. 12 – Packs |