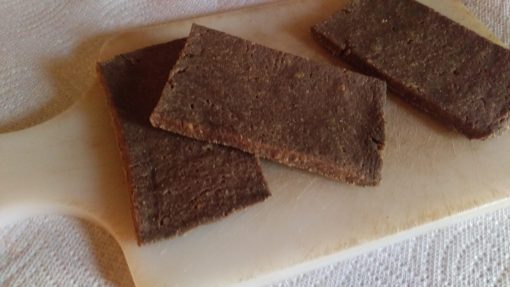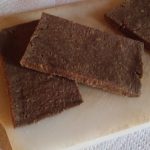 BARK Snacks
$29.97 – $189.97
BARK is a very versatile product that is extremely nutritious. Just break whatever size piece(s) you desire for your application tiny for training or larger for snacks, full bars for meal replacement. Designed also to supplement commercial foods with the awesome benefits of BD affordably. Travels very well. Store in a safe dry place, a canister full for daily use works well. Feel free to use them liberally.
"This food is only for dog."​
Sizes/Pricing
Ingredients
Feeding/Storage
Gauranteed Analysis
AAFCO Statement
Description
Additional information
Reviews (0)
| | | | |
| --- | --- | --- | --- |
| Size – Quantity | Price | Price per lb. | Shipping |
| 15, Pack | $29.97 | | |
| 30, Pack | $59.97 | | |
| 50, Pack | $79.97 | | |
| 100, Pack | $189.97 | | |
Red or White Meat based formula options below – choose preference at checkout
Red Meat: Beef, Bison, Elk, Venison, Green Tripe, Venison Liver, Beef Liver, Venison Kidney, Heart, Bone Marrow, Barley Grass Sprouts, Collard Greens, Sunflower Sprouts, Buckwheat Sprouts, Bean Sprouts, Bok Choy, Kale, Parsley. Micro Greens SproutMixx™ — Sunflower, Clover, Mizuna, Purple Cabbage, Kale, Broccoli, Alfalfa, Kohlrabi. Wild Salmon, Papaya, Blueberries, Beets, Carrots, Reishi Mushroom, Shiitake Mushroom, Garlic, Ginger Root, Turmeric, Himalayan Pink Salt. (Preserved by air drying, natural antioxidants and live probiotic microflora fermentation in a perfect pH Balance: 4.3) 100% organic micro-greens, sprouts, vegetables, herbs, fungi, rhizomes. (Micro-Nutrients from leafy greens)
White Meat: Chicken, Turkey, Chicken Liver, Barley Grass Sprouts, Collard Greens, Sunflower Sprouts, Buckwheat Sprouts, Bean Sprouts, Kale. Micro Greens SproutMixx™ — Sunflower, Clover, Mizuna, Purple Cabbage, Kale, Broccoli, Alfalfa, Kohlrabi, Wild Salmon, Papaya, Blueberries, Shiitake Mushroom, Beets, Carrots, Reishi Mushroom, Ginger Root, Garlic, Tumeric, Himalayan Pink Salt. (Preserved by air drying, natural antioxidants and live probiotic microflora fermentation in a perfect pH Balance: 4.3) 100% organic micro-greens, sprouts, vegetables, herbs. (Micro-Nutrients from leafy greens)
| | |
| --- | --- |
| Weight of Dog | Amount per Day |
| 5 lb (2,3 kg) | ½ cup (50 g) – 2/3 cup (65 g) |
| 10 lb (4,5 kg) | ¾ cup (75 g) – 1 1/8 cups (110 g) |
| 20 lb (9 kg) | 1 1/3 cups (130 g) – 1 ¾ cups (175 g) |
| 40 lb (18 kg) | 3 ¼ cups (225 g) – 3 cups (295 g) |
| 60 lb (27 kg) | 4-5 cups (295 g) – 4 ¼ cups (420 g) |
| 80 lb (36 kg) | 5-7 cups (370 g) – 5 ¼ cups (520 g) |
| 100 lb (45 kg) | 8 cups (445 g) – 6 ¼ cups (620 g) |
Storage:
Taking good care of your very special food. Supreme™ is individually fresh pressure packed. For optimum freshness during storage. For the very best results including maintaining optimum freshness store cool to cold. We recommend storing back stock cool to cold/frozen. Supreme™ should travel well with whatever quantity you need without the necessity for cold storage. Our proprietary VitaMethod™ process is an excellent stabilizing force; however do try to avoid storing open packages in humidity as Supreme™ is real whole natural food.
Nutrient

Nutrient
Guarantee %

As Fed1 %

Dry Matter2 %

As Fed, Caloric Basis3
g/100 kcal

Protein

26.5 min

26.5

35.0

15.2

Fat

15.5 min

15.5

20.0

5.8

Carbohydrate (NFE)

48.3

52.5

13.0

Crude Fiber

3.5 max

1.7

1.8

0.5

mg/100 kcal3

Calcium

1.50 min

1.0

1.0

305

Phosphorus

1.0 min

0.62

0.67

255

Sodium

0.25

0.24

67

Potassium

0.64

0.70

197

Magnesium

0.097

0.105

32
¹Differs from label guarantees which are either maximums or minimums.
²The nutrient in the product after moisture is removed. It is used to make direct comparisons of nutrient profiles of products with differing moisture contents.
³Nutrient intake for every 100 kilocalories consumed.
Animal feeding tests using AAFCO procedures substantiate that Balance Diet pet foods provides complete and balanced nutrition for for all life stages of dogs.
Description
BARK is a very versatile product that is extremely nutritious. Just break whatever size piece(s) you desire for your application tiny for training or larger for snacks, full bars for meal replacement. Designed also to supplement commercial foods with the awesome benefits of BD affordably. Travels very well. Store in a safe dry place, a canister full for daily use works well. Feel free to use them liberally.​
Additional information
| | |
| --- | --- |
| Choose Recipe | Thin, Thick |
| Quantity | 15, Pack $29.97, 30, Pack $59.97, 50, Pack $99.97, 100, Pack $189.97, 15, Pack $39.97, 30, Pack $79.97, 50, Pack $129.97, 100, Pack $149.97, Thin is 1/4, Thick is 1/2 |