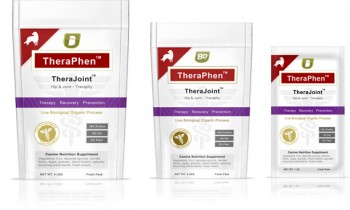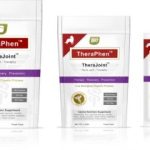 TheraJoint-Hip & Joint
$39.97 – $789.97
TheraJoint™ has a precision balance of nutrients your dog requires for a longer, healthier life!  Expertly hand crafted in USA
TheraPhen Supplements not food
Sizes/Pricing
Ingredients
Feeding/Storage
Gauranteed Analysis
AAFCO Statement
Additional information
Reviews (0)
TheraJoint™ Hip & Joint is designed and formulated for dogs with Glucosamine and MSM to support joint flexibility and hip health.  Glucosamine is formed when glucose combines with an amino acid. It is a building block for cartilage. Glucosamine sulfate is a form of glucosamine that has some extremely beneficial implications, especially when used to heal connective tissue. Glucosamine sulfate is a small and simple molecular building block used to repair damage cause by arthritis or to aid body builders and athletes with joint pain by helping to repair and lubricate the cartilage around damaged joints.
TheraJoint™ Hip & Joint contains, MSM or Methylsulfonylmethane, also known as Sulfonyl sulfur is found in the fluid and tissues of all living organisms and in a variety of raw plant and animal foods. It is no longer present in foods that have been stored during shipping or held in storage, even though they contained MSM in their natural state.
Glucosamine is a naturally occurring amino sugar synthesized in the body from L-glutamine and glucose. Glucosamine stimulates the manufacture of glycosaminoglycans, important components of the cartilage needed for healthy joints. Aging dogs seem to lose their ability to produce a sufficient amount of glucosamine, and there are no food sources available. Commercial sources of glucosamine are from the exoskeleton of certain shellfish and are available as glucosamine sulfate, glucosamine hydrochloride, and N-acetyl-glucosamine. The sulfated form may most effectively incorporate sulfur into the cartilage.

Glycosaminoglycans and glycoproteins allow cells in tissues to hold together. They are necessary for the construction and maintenance of virtually all connective tissues and lubricating fluids in the body.50, 51 In particular, N-acetyl glucosamine is the final form, which together with glucuronic acid, is polymerized to make the joint lubricant, hyaluronic acid.

Chondroitin sulfates provide the structural components of joint cartilage and facilitate the entry of glucosamine into joints. Chondroitin sulfates also inhibit free radical enzymes. Like glucosamine, chondroitin sulfate attracts water into the cartilage matrix and helps to stimulate the production of cartilage.
Liquid Glucosamine, Chondroitin, & MSM Supplement with Collagen
TheraJoint™ is the most complete and convenient joint health supplement available. TheraJoint™ takes the guesswork out of selecting the "right" joint health product by providing seven powerful and synergistic joint supporting, premium ingredients including the exclusive and VMIXX™ LIQUA_drect™ (enzymatically hydrolyzed Type 1 collagen), Glucosamine Sulfate, Hyaluronic Acid, MSM, Chondroitin, BioCellular Collagen  (Type 2 Collagen), and Silica – all in a great tasting formula dogs love.
Liquid Glucosamine, Chondroitin, & MSM Supplement with Collagen
Improves joint comfort and flexibility
Increases joint mobility/range of motion
Supports articular cartilage and connective tissue health
TheraJoint™ Hip & Joint protective formula
Glucosamine, Chondroitin, and MSM Supplement with Collagen?
TheraJoint™ is a great tasting high potency liquid joint formula that provides results "Lubricates  Joints" with 7 cutting-edge micro nutrients essential for complete support and maintenance of connective tissue – specifically joints, tendons and ligaments.
Enzymatically Hydrolyzed Collagen (Type 1 collagen)
VMIXX™ BioCellular Collagen (hydrolyzed Type 2 collagen)
Hyaluronic Acid
Glucosamine Sulfate
MSM / Silca / Chondroitin
How Does TheraJoint™ Glucosamine, Chondroitin, and MSM Supplement with Collagen Work?
TheraJoint™ works by providing the most complete and balanced nutritional support targeting the entire joint and cartilage matrix. This formula is focused on helping with joint function, repair, lubrication and mobility as well as helping the body reduce tenderness and inflammation.
Designed to work deep within the cartilage matrix. TheraJoint™ provides complete protective support with our LIQUA-drect™ delivery system to help maximize the benefits through improved absorption. Each nutrient was carefully chosen to ensure maximum and comprehensive benefits.
Although isolated connective tissue elements such as glucosamine have proven to be effective they are narrower in their applications, which might limit their overall benefits.
TheraJoint™ goes beyond these isolated elements by providing a wide spectrum of beneficial micronutrients in effective dosages that support the entire joint structure including synovial fluid.
Why Our Glucosamine, Chondroitin, and MSM Supplement with Collagen is Better…
Unlike separately available joint ingredients, like glucosamine, and chondroiten, Fluid Motion goes beyond these individual supplements by combining 7 unique nutrients to fully support the entire joint structure including synovial fluid (the fluid in between the joints that provides cushion).
TheraJoint™ also utilizes VMIXX™ proprietary LIQUA-drect™ delivery system.
TheraJoint™ formula is the only one of its kind to contain both Type 1 and 2 collagens.
TheraJoint™ ensures that clinically valid levels of all active ingredients are utilized.
Great tasting flavor dogs love!
All natural- No chemicals, No artificial colors or flavors
Ingredients & Analysis
Amount Per Serving
Glucosamine sulfate

400 mg

(from 500 mg D-glucosamine sulfate 2KCl)
Chondroitin sulfate

450 mg

(from 500 mg gross weight)
Vitamin D3 (as cholecalciferol)

1000 IU

Calcium (as dicalcium malate, calcium bis-glycinate,

1200 mg

calcium fructoborate)
Magnesium (as magnesium oxide)

340 mg

Zinc (as zinc amino acid chelate)

2 mg

Manganese (as manganese amino acid chelate)

1 mg

Silicon (from horsetail herb, Equisetum arvense)

5 mg

Boron (calcium fructoborate as patented VMIXX™ B

3 mg

VMIXX™ Boron)
Contains crustacean shellfish (shrimp, crab). This product contains NO milk, egg, fish, peanuts, soybeans, tree nuts, wheat, yeast, gluten, corn, or rice. Contains NO sugar, and no artificial sweeteners, flavors, colors, or preservatives.
Daily Feeding Guidelines & Storage
Dogs/Puppies: begin with these guidelines. You may adjust portions for desired results to maintain proper hip and joint health and mobility.  If you are uncertain, consult your Balance Diet vet. tech., or ask your veterinarian. Feed more TheraJoint™  as needed.    

BD-Tip:  Keep fresh water available!
Feeding/Use
1 tbsp., TheraJoint™  per 10 lbs. body weight 3 times per week
Supplement  TheraJoint™  daily toevery other day
Use as a healthy nutritious gratifying therapeutic snack/supplement
BD-Tip: feed apart or mix into food
Storage:
Taking good care of your very special nutritional supplement

You may find that you do not need to refrigerate TheraJoint™,  though for the very best results including maintaining optimum freshness we recommend cold storage. We recommend storing back stock cool-cold. TheraJoint™  should travel well with the necessity for cold storage. Our proprietary VitaMethod™ process is an excellent stabilizing force, TheraJoint™ is real whole natural food.
Sorry! No Data Available Yet.
Sorry! No Data Available Yet.
Additional information
| | |
| --- | --- |
| Quantity | Choose an option.., 16 oz., 32 oz., 64 oz., 1gal, 2 gal, 5 gal, 8 oz. |