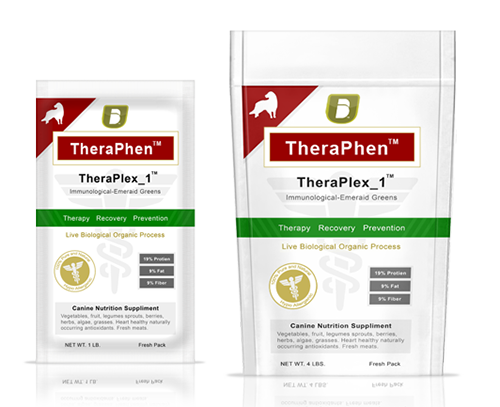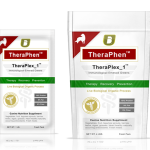 Theraplex_1
$39.97 – $789.97
TheraPlex_1™ has a precision balance of nutrients your dog requires for a longer, healthier life!  Expertly hand crafted in USA
TheraPhen Supplements not food
Sizes/Pricing
Ingredients
Feeding/Storage
Gauranteed Analysis
AAFCO Statement
Additional information
Reviews (0)
Pricing, Quantity, Bulk Discount

TheraPlex Immunological Complex 16 oz. Individual barrier packs

Size
Price
Price per lb.
Shipping
8 oz.(½ lb)
$39.97
$79.99
Discounted
1 lb.
$59.99
$59.99
Discounted
2 lbs.
$99.97
$49.99
Discounted
4 lbs.
$179.97
$44.99
Discounted
8 lbs.
$349.97
$43.74
Discounted
16 lbs.
$649.97
$39.99
Discounted
32 lbs.
$997.97
$31.25
Discounted
64 lbs.
$1687.97
$26.37
Discounted
Ingredients & Analysis
Green cabbage, Barley Grass, Alfalfa, Spirulina, Turnip Greens, Avocado, Kale, Apples,  Oranges, Grapefruit, Tomato, Carrots, Garlic, Cayenne Pepper, Bell Pepper, Broccoli, Cauliflower, Spinach, Peaches, Blueberry, Raspberry, Kamut Grass, Watermelon, Cantaloupe, Honeydew, Indigo berry, Parsley, Radish, Summer squash, Shitake Mushroom, Ginger Root, Thyme, Cumin, Yucca, Apple Cider Vinegar, Dandelion Root, Sage, Aloe Vera, Reishi, Echinacea, Thyme, Astragalus, and Chicory.  (Preserved by a natural pH. Balance)
Nutrient Profile
Iodized Salt, L-Lysine, Potassium Chloride, Choline Chloride, vitamins (L-Ascorbyl-2-Polyphosphate (source of vitamin C), Vitamin E Supplement, Niacin, Thiamine Mononitrate, Vitamin A Supplement, Calcium Pantothenate, Biotin, Vitamin B12 Supplement, Pyridoxine Hydrochloride, Riboflavin, Folic Acid, Vitamin D3 Supplement), Vitamin E Supplement, Dicalcium Phosphate, Calcium Carbonate, minerals (Ferrous Sulfate, Zinc Oxide, Copper Sulfate, Manganous Oxide, Calcium Iodate, Sodium Selenite, Beta-Carotene, Rosemary Extract. (Exceeds AAFCO standards)

TheraPlex_2™  also contains trace amounts of more than 50 other minerals.
Metabolic Energy¹ (Calories)
Dry Weight      3929 kcal/kg (372 kcal/per cup ² )
¹Measurement of Usable Energy in a food, which differs substantially from gross caloric content.
²Eight fluid oz. equals 5.5 oz. by weight.
Average Nutritional Properties
  Nutrient
 Nutrient Guarantee %
As Fed1 %
Dry Matter2 %
As Fed, Caloric Basis3
g/100 kcal
Protein
9.5 min
9.5
11.0
7.5
Fat
4.5 min
4.5
5.5
3.5
Carbohydrate (NFE)
25.5
25.5
10.0
Crude Fiber
10.5 max
13.7
.7
0.5
 
mg/100 kcal3
Calcium
3.50 min
2.0
2.0
335
Phosphorus
2.0 min
0.64
0.69
255
Sodium
0.26
0.26
69
Potassium
3.2 min
3.65
0.53
250
Magnesium
3.2 min
2.5
2.2
52
Enzyme classes
Aspartate aminotransferase
Catalase
Cytochrome oxidase
DNase
Fatty acid oxidase Hexokinase
Malic dehydrogenase
Nitrate reductase
Nitrogen oxyreductase
Peroxidase
Peroxidase catalase
Phosphatase
Phospholipase
Polyphenoloxidase
RNase
Superoxide dismutase
Transhydrogenase
Amino acid classes
Alanine
Amide
Arginine
Aspartic acid
Cystine
Glutamic acid
Glycine
Histidine
Isoleucine
Leucine
Lysine
Methionine
Phenylalanine
Proline
Purines
Serine
Threonine
Tryptophan
Tyrosine
Valine
Beta carotene content
Vegetable
IU per 100g
Green barley
Carrots
Kale
Spinach
Summer squash
Broccoli
Cabbage
23,136
11,000
8,300
7,964
390
877
133
Vitamins & Minerals
Vitamins
Minerals
Beta carotene
Biotin
Choline
Folic acid
Niacin
Pantothenic acid
Vitamin A
Vitamin B1
Vitamin B2
Vitamin B6
Vitamin B12
Vitamin C
Vitamin E
Vitamin K
Boron
Calcium
Chloride
Chromium
Iodine
Iron
Magnesium
Manganese
Phosphorous
Potassium
Selenium
Sodium
Sulphur
Zinc
¹Differs from label guarantees which are either maximums or minimums.
²The nutrient in the product after moisture is removed. It is used to make direct comparisons of nutrient profiles of products with differing moisture contents.
³Nutrient intake for every 100 kilocalories consumed.
Daily Feeding Guidelines & Storage
Dogs/Puppies: begin with these guidelines. You may adjust treat portions for desired results to maintain proper hip and joint health and mobility.  If you are uncertain, consult your Balance Diet vet. tech., or ask your veterinarian. Feed more TheraPlex_1™ as needed.    

BD-Tip:  Keep fresh water available!
Feeding/Use
1 tsp., TheraPlex_1™  per 10 lbs. body weight 3 times per week-daily
 Supplement TheraPlex-1™ every other day to daily
Use as a healthy nutritious gratifying therapeutic snack/supplement
BD-Tip: feed apart or mix into food
Storage
Storage: Taking good care of your very special nutritional supplement
You need to refrigerate/freeze TheraPlex_1™,  for the very best results including maintaining optimum freshness we recommend cold storage.  We recommend storing back stock cold or frozen. TheraPlex_1™  should travel well with the necessity for cold storage. Our proprietary VitaMethod™ process is an excellent stabilizing force; however avoid storing in non thermal containers, as TheraPlex_1™ is real whole natural food.
Sorry! No Data Available Yet.
Sorry! No Data Available Yet.
Additional information
| | |
| --- | --- |
| Quantity | Choose an option.., 1gal, 2 gal, 5 gal, 8 oz., 16 oz., 32 oz., 64 oz. |