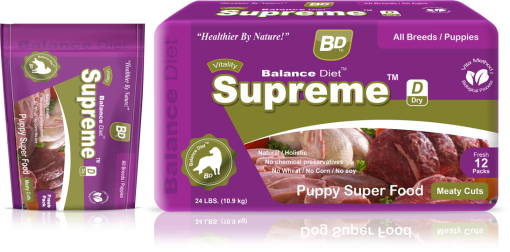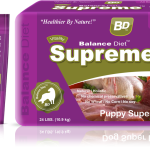 Supreme™ D–Puppy Super Food — ALL BREEDS / PUPPIES
$59.97 – $969.67
The World's Most Nutritious Puppy Food! — Delicious Dry Meaty Kibble — PROVEN NUTRITION
Sizes/Pricing
Ingredients
Feeding/Storage
Gauranteed Analysis
AAFCO Statement
Additional information
Reviews (0)
Size – Quantity

Price

Price per lb.

Shipping

1 Pack = 4 lbs. (14 cups per pack)

1 Bale = 64 lbs (16 – 4 lb. fresh packs)

16 lbs. 4-Packs

$59.97

$3.75 per lb.

Discounted

32 lbs. 8-Packs

$79.97

$2.49 per lb.

Discounted

64 lbs. 16-4 lb. Packs (1 bale)

$139.97

$1.87 per lb.

Discounted
Daily Feeding Guidelines
Puppies: begin with these guidelines. You may adjust feeding portions for desired results to maintain proper body weight. If you are uncertain, or you are feeding Supreme V™ Puppy to a pregnant/nursing bitch, consult your Balance Diet™ vet. tech., or ask your veterinarian. BD Tip™ feed 2-3 meals daily, or free feed.
BD Tip™ Keep fresh water available!
Puppy Chart

Growth less than 4 months


Growth 4 to 9 months


Growth 10 to 12 months
Dry Weight 3727 kcal/kg (367 kcal/per cup ² )
¹Measurement of Usable Energy in a food, which differs substantially from gross caloric content.
² An eight fluid oz. measuring cup of Nature's Best® With Real Beef Adult contains 3.5 oz. by weight.
Sorry! No Data Available Yet.
Animal feeding tests using AAFCO procedures substantiate that Balance Diet pet foods provides complete and balanced nutrition for for all life stages of dogs.
Additional information
| | |
| --- | --- |
| Quantity | 16 lbs. 4 – Packs, 32 lbs. 8 – Packs, 48 lbs 12 – 4 lb. Packs (1 bale), 396 lbs 84 – 4 lb. Packs (6 bales), 660 lbs. 165 – 4 lb. Packs (10 bales), 48 lbs |
| Choose Recipe | Red Meat, White Meat, Prime Cuts |