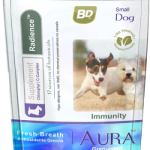 Radience™ Antioxidant Liquid
$20.00 – $897.97
AURA™ Radience™ Small Dog Foods have a precision balance of nutrients your dog requires or a longer, healthier life! Expertly hand crafted in USA
Sizes/Pricing
Ingredients
Feeding/Storage
Gauranteed Analysis
AAFCO Statement
Additional information
Reviews (0)
| | | | | |
| --- | --- | --- | --- | --- |
| Aura Small Dog Food- Size – Quantity | Price | | Price Per Dry oz. | Shipping |
| 1 lb. | $29.97 | | $1.88 | Discounted |
| 4 lbs. | $109.97 | | $1.72 | Discounted |
| 8 lbs. | $199.97 | | $1.57 | Discounted |
| 16 lbs. | $369.97 | | $1.45 | Discounted |
| 32 lbs. | $589.97 | | $1.15 | Discounted |
| 64 lbs. | $897.97 | | $.89 | Discounted |
Chlorophyllin in AURA™ Radience™ – The pigment chlorophyllin is vividly seen in green vegetables. Scientific studies indicate that chlorophyllin may be the most potent nutrient to protect against environmental DNA damage.
Balance Diet™ AURA™ Radience™ is an immune boosting V System™ component. When used with Velamin™ and Regale™ Melafluos™ is part of an economical, easy to use high quality nutrition regimen.
AURA™ Radience™ has potent antioxidant properties. Recent studies have revealed yet again how antioxidants promote good health, by boosting the natural ability of the immune system to fend off disease. Studies reveal direct evidence that antioxidants can help the body fight infection caused by pathogens like bacteria and viruses. According researchers, this immune boosting activity may also underlie antioxidants protective effects against cancer. Earlier research has linked antioxidant consumption. Earlier research has linked antioxidant consumption with with protection against heart disease and various kinds of cancer, an effect attributed to certain antioxidant polyphenol compounds. New studies show that frequent consumption of antioxidant rich substances boost immune activity by stimulating the production of important antigens. Analysis of blood samples show that with the consumption of antioxidant rich substances (fruits, vegetables, herbs, etc.) significantly stronger immune responses occur against bacteria than did samples without. According to researchers L-Theanine, an amino acid found in antioxidant rich plant matter, acts as a precursor to an important type of antigen called alkylamine antigen. Antigens are immune-system components that prompt the body to create antibodies. The interaction between antigens and antibodies is a key aspect of the immune-systems disease fighting abilities. Antigens may be formed within the body, or, as in the case with alkylamine antigens are associated with tumor cells, bacteria, parasites and fungi, but also with plant products, such as is found in AURA™ Radience™.
When your dog consumes AURA™ Radience™ the liver processes L-theanine into an alkylamine antigen called ethylamine. In turn ethylamine primes certain immune cells (known as gama delta T-cells) to mount a "memory response" when the encounter the antigen again in the future. This research has important implications for AURA™ Radience™ that dietary intake of antioxidants and polyphenlos found in fermented in vegetables, fruits, and herbs containing alkylamine antigens or their precursers can prime gama delta T-cells, that then can provides natural resistance to microbial infections and tumors. Conclusion: AURA™ Radience™ helps to maintain excellent health and Vitality…Radience!
| | |
| --- | --- |
| Ingredients/Feeding/Storage | |
Chicken, beef, grade AA eggs, chicken liver, beef liver, bone marrow, ground bone, alfalfa, salmon, carrot apple, orange grapefruit garlic, avocado, tomato, spirulina spinach, broccoli, turnip greens, blueberry, shiitake mushroom, bean sprouts, berry grass, cider vinegar. (Preserved by a natural PH. Balance)
Nutrient Profile
Iodized Salt, L-Lysine, Potassium Chloride, Choline Chloride, vitamins (L-Ascorbyl-2-Polyphosphate (source of vitamin C), Vitamin E Supplement, Niacin, Thiamine Mononitrate, Vitamin A Supplement, Calcium Pantothenate, Biotin, Vitamin B12 Supplement, Pyridoxine Hydrochloride, Riboflavin, Folic Acid, Vitamin D3 Supplement), Vitamin E Supplement, Dicalcium Phosphate, Calcium Carbonate, minerals (Ferrous Sulfate, Zinc Oxide, Copper Sulfate, Manganous Oxide, Calcium Iodate, Sodium Selenite, Beta-Carotene, Rosemary Extract. (Exceeds AAFCO standards)
Metabolic Energy¹ (Calories)
Dry Weight      3727 kcal/kg (367 kcal/per cup ² )
¹Measurement of Usable Energy in a food, which differs substantially from gross caloric content.
²Eight fluid oz. equals 5.9 oz. by weight.
Average Nutritional Properties
Nutrient

Nutrient Guarantee %

As Fed1 %

Dry Matter2 %

As Fed, Caloric Basis3
g/100 kcal

Protein

26.5 min

26.5

35.0

15.2

Fat

15.5 min

15.5

20.0

5.8

Carbohydrate (NFE)

48.3

52.5

13.0

Crude Fiber

3.5 max

1.7

1.8

0.5

mg/100 kcal3

Calcium

1.50 min

1.0

1.0

305

Phosphorus

1.0 min

0.62

0.67

255

Sodium

0.25

0.24

67

Potassium

0.64

0.70

197

Magnesium

0.097

0.105

32
¹Differs from label guarantees which are either maximums or minimums.
²The nutrient in the product after moisture is removed. It is used to make direct comparisons of nutrient profiles of products with differing moisture contents.
³Nutrient intake for every 100 kilocalories consumed.
Daily Feeding Guidelines & Storage
Begin with these guidelines. You may adjust feeding portions for desired results to maintain proper body weight. If you are uncertain, or you are feeding Aura™ Small Dog to a puppy, consult your Balance Diet vet. tech., or ask your veterinarian. BD-Tip: feed 2-3 meals daily, or free feed
BD-Tip:  Keep fresh water available! 
Feeding Chart
| | |
| --- | --- |
| Weight of Dog | Amount per Day |
| 5 lb (2,3 kg) | 3/8 cup (35 g) – 5/8 cup (60 g) |
| 10 lb (4,5 kg) | 2/3 cup (65 g) – 1 cup (100 g) |
| 20 lb (9 kg) | 1 1/4 cups (125 g) – 1 2/3 cups (165 g) |
| 30 lb (13,5 kg) | 1 ¾ cups (175 g) – 2 cups (200 g) |
BD-Tip: Puppies Add 20%-25%
Storage
Taking good care of your very special food
For the very best results including maintaining optimum freshness and prevention of spoilage, we recommend cold storage; refrigerate/freeze Aura™.  Our proprietary VitaMethod™ process is an excellent stabilizing force, however avoid humidity, as Aura™ is real whole natural food.
Sorry! No Data Available Yet.
Additional information
| | |
| --- | --- |
| Quantity | Choose an option.., 32 lbs., 8lbs., 1lb., 4lbs, 16lbs., 64lbs, 64 lbs |