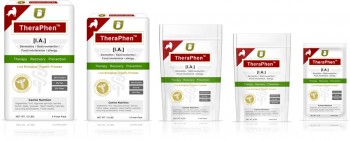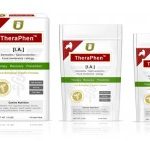 TheraPhen [I.A.] Dermatitis
$29.97 – $1,397.97
Theraphen™ [I.A.]™ has a precision balance of nutrients your dog requires for a longer, healthier life!  Expertly hand crafted in USA.
TheraPhen Supplements not food
Sizes/Pricing
Ingredients
Feeding/Storage
Gauranteed Analysis
AAFCO Statement
Additional information
Reviews (0)
Delightful aroma dogs love!
 20 plus healthy whole fresh human grade/organic ingredients
All naturally occurring vitamins and minerals
Hypoallergenic: no grains, no corn, soy or wheat/wheat gluten
Dogs love the real meaty flavors intensely
Naturally preserved utilizing our proprietary VitaMethod™
Promotes a healthy immune system
Vegetables, fruit, legumes sprouts, berries, herbs, algae, grasses
Heart healthy naturally occurring antioxidants
Odorless biodegradable reduced firm ash stools
Gastrointestinal (GI) disorders affect the stomach and intestines, causing painful symptoms and problems with your dog's overall health. Some of the more common symptoms include vomiting, regurgitation, flatulence, weakness, diarrhea or constipation. TheraPhen [A.I.]™ Canine dog food is a highly digestible formula created specifically to help manage dogs with GI disorders. There are several types of GI disorders that affect dogs, including colitis, constipation/diarrhea, gastroenteritis and pancreatitis. The nutritional formulation of  TheraPhen [A.I.]™ may also be useful for dogs with a variety of conditions.

TheraPhen™ [I.A.]™ For the Nutritional Management of Dogs with Dermatitis / Gastroenteritis / Food intolerance / allergy  There are many causes for such conditions resulting in a variety of uncomfortable and life compromising symptoms for your dog. Kidney disease can be either sudden (acute) or occur gradually (chronic). TheraPhen™ [I. A.]™ dog food is expertly biologically formulated  to help manage dogs with such conditions disease. Issues may develop because of other diseases or changes in health, breed/hereditary tendencies and even nutritional factors. Signs of disorders do not usually present until more than 50% of healthy function diminishes. TheraPhen™ [I.A.]™ dog food is clinically proven to extend and improve quality of life in dogs with disorders. The nutritional formulation of TheraPhen™ [I.A.]™ may also be useful for dogs with a various conditions.
Chicken, red cabbage, green cabbage, cucumber, eggs, chicken liver, alfalfa, salmon, carrot, celery, apple, orange, grapefruit, avocado, tomato, spirulina, spinach, broccoli, turnip greens, beets, blueberry, shiitake mushroom, bean sprouts, berry grass, garlic, parsley, cider vinegar. (Preserved by a natural pH. Balance)
Nutrient Profile
Iodized Salt, L-Lysine, Potassium Chloride, Choline Chloride, vitamins (L-Ascorbyl-2-Polyphosphate (source of vitamin C), Vitamin E Supplement, Niacin, Thiamine Mononitrate, Vitamin A Supplement, Calcium Pantothenate, Biotin, Vitamin B12 Supplement, Pyridoxine Hydrochloride, Riboflavin, Folic Acid, Vitamin D3 Supplement), Vitamin E Supplement, Dicalcium Phosphate, Calcium Carbonate, minerals (Ferrous Sulfate, Zinc Oxide, Copper Sulfate, Manganous Oxide, Calcium Iodate, Sodium Selenite, Beta-Carotene, Rosemary Extract. (Exceeds AAFCO standards)
Metabolic Energy¹ (Calories)
Dry Weight      3727 kcal/kg (367 kcal/per cup ² )
¹Measurement of Usable Energy in a food, which differs from gross caloric content.
²An eight fluid oz. measuring cup contains 5.5 oz. by weight.
Average Nutritional Properties
Nutrient

Nutrient Guarantee %

As Fed1 %

Dry Matter2 %

As Fed, Caloric Basis3
g/100 kcal

Protein

22.5 min

22.5

35.0

15.2

Fat

15.5 min

15.5

20.0

5.8

Carbohydrate (NFE)

48.3

52.5

13.0

Crude Fiber

3.5 max

1.7

1.8

0.5

mg/100 kcal3

Calcium

1.50 min

1.0

1.0

305

Phosphorus

1.0 min

0.62

0.67

255

Sodium

0.25

0.24

67

Potassium

0.64

0.70

197

Magnesium

0.097

0.105

32

 Attributes

Proteins

99% Bio-available | Biological predigestion (Glycolysis)

Carbohydrates

Digestibility–99.9%

Omega Fatty Acids 3,6, & 9

Abundant

Lipid Digestibility

99% (naturally occurring in meats)

Antioxidants

Reduces free radical damage to repair oxidative degeneration

Vegetable Fiber

VMIXX™
¹Differs from label guarantees which are either maximums or minimums.
²The nutrient in product after moisture removal, used to make direct comparisons of nutrient profiles of products with varying moisture contents.
³Nutrient consumption per 100 kilocalories.
Daily Feeding Guideline
DOGS: begin with these guidelines. You may adjust feeding portions for desired results to maintain proper body weight. If you are uncertain, or you are feeding TheraPhen™ [R.H.E.]™  to a pregnant/nursing bitch, consult your Balance Diet™ Vet. Tech., or ask your veterinarian. BD™ Tip: feed 2-3 meals daily, or free feed.

BD™ Tip: Keep fresh water available!
Discontinue the use of all other forms of feeding immediately upon the introduction of TheraPhen™
| | |
| --- | --- |
| Weight of Dog | Amount per Day |
| 5 lb (2,3 kg) | ½ cup (50 g) – 5/8 cup (60 g) |
| 10 lb (4,5 kg) | ¾ cup (75 g) – 1 cup (100 g) |
| 20 lb (9 kg) | 1 ¼ cups (125 g) – 1 ¾ cups (175 g) |
| 40 lb (18 kg) | 2 ¼ cups (225 g) – 3 cups (295 g) |
| 60 lb (27 kg) | 3 cups (295 g) – 4 cups (395 g) |
| 80 lb (36 kg) | 3 2/3 cups (365 g) – 5 cups (495 g) |
| 100 lb (45 kg) | 4 ¼ cups (420 g) – 5 ¾ cups (570 g) |
Sorry! No Data Available Yet.
Sorry! No Data Available Yet.
Additional information
| | |
| --- | --- |
| Quantity | Choose an option.., 4lbs. 1-pack, 8lbs. 2-packs, 12lbs. 3-packs, 24lbs. 6-packs, 1 bale 16-4 lb. packs/64 lbs., 3 bale 36-4 lb. packs/144 lbs., 5 bale 60-4 lb. packs/240 lbs., 10 bale 120-4 lb. packs/480 lbs., 20 bale 240-4 lb. packs/960 lbs. |