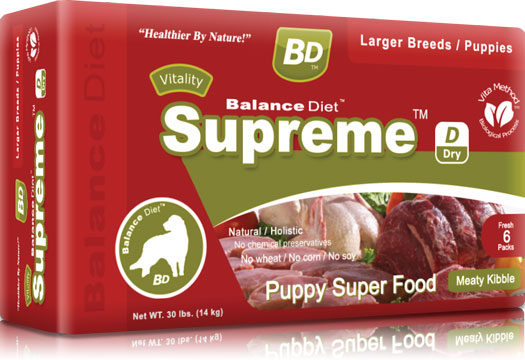 Supreme™ is formulated to meet the nutritional levels established by the AAFCO (Association of American Feed Control Officials) Dog Food Nutrient Profile for maintenance
Ingredients
Purposfully
Bio-engineered
Red or White Meat based formula options below – choose preference at checkout
White Meat Option: Good for sensitive dogs
Chicken, Turkey, Chicken Liver, Barley Grass Sprouts, Collard Greens, Sweet Potato, Sunflower Sprouts, Buckwheat Sprouts, Bean Sprouts, Kale. Micro Greens SproutMixx™ — Sunflower, Clover, Mizuna, Purple Cabbage, Kale, Broccoli, Alfalfa, Spirulina, Kohlrabi. Wild Salmon, Blueberries, Shiitake Mushroom, Beets, Carrots, Extra Virgin Olive Oil, Reishi Mushroom, Ginger Root, Turmeric, Garlic, Himalayan Pink Salt, Ground Peppercorns, Rosemary (Preserved by air drying, natural antioxidants and live probiotics in a perfect pH Balance: 4.3) 100% organic micro-greens, sprouts, vegetables, herbs. (Micro-Nutrients leafy greens)
Red Meat Option: Hearty dense nutrition
Beef, Bison, Elk, Venison Tripe, Venison Liver, Beef Liver, Venison Kidney, Heart, Bone Marrow, Barley Grass Sprouts, Collard Greens, Sweet Potato, Sunflower Sprouts, Buckwheat Sprouts, Bean Sprouts, Bok Choy, Kale, Spirulina, Parsley. Micro Greens SproutMixx™ — Sunflower, Clover, Mizuna, Purple Cabbage, Kale, Broccoli, Alfalfa, Kohlrabi. Wild Salmon, Blueberries, Shiitake Mushroom, Beets, Carrots, Extra Virgin Olive Oil, Reishi Mushroom, Ginger Root, Turmeric, Garlic, Himalayan Pink Salt, Ground Peppercorns, Rosemary, (Preserved by air drying, natural antioxidants and live probiotics in a perfect pH Balance: 4.3) 100% organic micro-greens, sprouts, vegetables, herbs. (Micro-Nutrients leafy greens)
Dogs : begin with these guidelines. You may adjust feeding portions for desired results to maintain proper body weight. If you are uncertain, or you are feeding Supreme™ to a pregnant/nursing bitch, consult your Balance Diet™ vet.tech., or ask your veterinarian. BD™ Tip: feed 2-3 meals daily or free feed. BD™ Tip: Keep fresh water available!
Pricing, Quantity, Bulk Discount
1 Pack = 4 lbs. (14 cups per pack)
1 Bale = 64 lbs (16 – 4 lb. fresh packs)
16 lbs. 4-Packs
32 lbs. 8-Packs
64 lbs. 16-4 lb. Packs (1 bale)
$3.75 per lb.
$2.49 per lb.
$2.18 per lb.
Discounted
Discounted
Discounted
Metabolic
Energy¹
(Calories)
Dry Weight 3727 kcal/kg (367 kcal/per cup ² )
¹ Measurement of Usable Energy in a food, which
differs substantially from gross caloric content.
² 8 fluid oz .of BD™ Supreme™
contains 6.3 oz. by weight.
Nutritional Data
for 100 grams
of BD™ BEEF;
CURED, RAW.
Mean value per 100.00 grams edible part; 1.0% refuse
Portions: 1 LB = 453.60 gm, 1 OZ = 28.35 gm
68.9% Cals from fat, 30.8% Cals from protein, 0.3% Cals from carbs.
Taking good care of your very special food. Supreme™ is individually fresh vacuumed packed for optimum freshness during storage. For the very best results including maintaining optimum freshness store cool to cold. We recommend storing back stock cool to cold/frozen. Supreme™ should travel well with whatever quantity you need indefinitely without the necessity for cold storage. Our proprietary VitaMethod™ process is an excellent stabilizing force; however do try to avoid storing open packages in humidity as Supreme™ is real whole natural food.