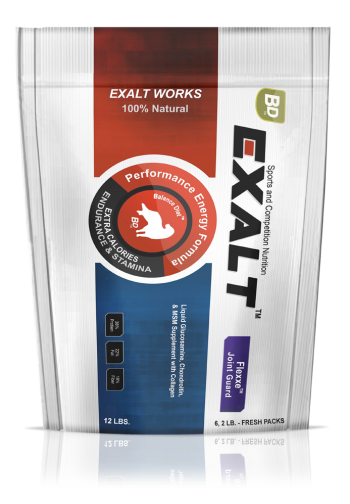 Flexxe​ ​Joint​​ Guard
Liquid Glucosamine, Chondroitin, & MSM Supplement with Collagen
Flexxe™ Joint Guard is the most complete and convenient joint health supplement available. Flexxe™ Joint Guard takes the guesswork out of selecting the "right" joint health product by providing seven powerful and synergistic joint supporting, premium ingredients including the exclusive and VMIXX™ LIQUA_drect™ (enzymatically hydrolyzed Type 1 collagen), Glucosamine Sulfate, Hyaluronic Acid, MSM, Chondroitin, BioCellular Collagen  (Type 2 Collagen), and Silica – all in a great tasting formula dogs love.
"This food is only for Dog."
Sizes/Pricing
Ingredients
Feeding/Storage
Gauranteed Analysis
AAFCO Statement
Additional information
| | | | | |
| --- | --- | --- | --- | --- |
| Quantity | Price | | Price Per Dry oz. | Shipping |
| 1 lb. | $29.97 | | $1.88 | Discounted |
| 4 lbs. | $109.97 | | $1.72 | Discounted |
| 8 lbs. | $199.97 | | $1.57 | Discounted |
| 16 lbs. | $369.97 | | $1.45 | Discounted |
| 32 lbs. | $589.97 | | $1.15 | Discounted |
| 64 lbs. | $897.97 | | $.89 | Discounted |
| | |
| --- | --- |
| Ingredients/Feeding/Storage | |
Servings Per  16 oz. Container: 135 @ 10 lbs. body weight
Ingredients
Chicken, beef, grade AA eggs, chicken liver, beef liver, bone marrow, ground bone, carrot, apple, orange grapefruit, avocado, tomato, blueberry, shiitake mushroom, bean sprouts, Glucosamine and chrondroitin Sulfate, Methylsulfonylmethane (Vela™ MSM), Cetyl Myristoleate, Serrata Extract, Uncaria Tomentosa (Cat's Claw),  Extract, Turmeric, Equisetum Arvense (Horse tail), Phellodendron Amurense extract,  boswellia, berry grass, cider vinegar. (Preserved by a natural pH. Balance)

Amount Per Serving
| | |
| --- | --- |
| Glucosamine sulfate | 400 mg |
| (from 500 mg D-glucosamine sulfate 2KCl) | |
| Chondroitin sulfate | 450 mg |
| (from 500 mg gross weight) | |
| Vitamin D3 (as cholecalciferol) | 1000 IU |
| Calcium (as dicalcium malate, calcium bis-glycinate, | 1200 mg |
| calcium fructoborate) | |
| Magnesium (as magnesium oxide) | 340 mg |
| Zinc (as zinc amino acid chelate) | 2 mg |
| Manganese (as manganese amino acid chelate) | 1 mg |
| Silicon (from horsetail herb, Equisetum arvense) | 5 mg |
| Boron (calcium fructoborate as patented VMIXX™ B | 3 mg |
| VMIXX™ Boron) | |
Daily Feeding Guidelines & Storage
Dogs/Puppies: begin with these guidelines. You may adjust portions for desired results to maintain proper hip and joint health and mobility. If you are uncertain, consult your Balance Diet™ vet. tech., or ask your veterinarian. BD-Tip: see also Flexxe™ puppy and senior versions.
BD-Tip:  Keep fresh water available!
Feeding/Use
1 tbsp., Flexxe™ per 10 lbs. body weight 3 times per week
Supplement Flexxe™  every other day
BD-Tip: use as a healthy nutritious gratifying therapeutic snack/supplement
Storage: Taking good care of your very special nutritional supplement
You may find that you do not need to refrigerate/freeze Flexxe™, though for the very best results including maintaining optimum freshness we recommend cold/cool dry storage. We recommend storing back stock cold. Flexxe™ should travel well without the necessity for cold storage. Our proprietary VitaMethod™ process is an excellent stabilizing force; however avoid storing in humidity, as Flexxe™ is real whole natural food.
Sorry! No Data Available Yet.
Sorry! No Data Available Yet.
Additional information
| | |
| --- | --- |
| Quantity | Choose an option.., 1lb., 4lbs., 8 lbs, 16 lbs, 32 lbs., 64 lbs |